Nine Inspiring Tracks By Women According To Rising Stars, Molly Payton, No Frills Twins & Aya Yves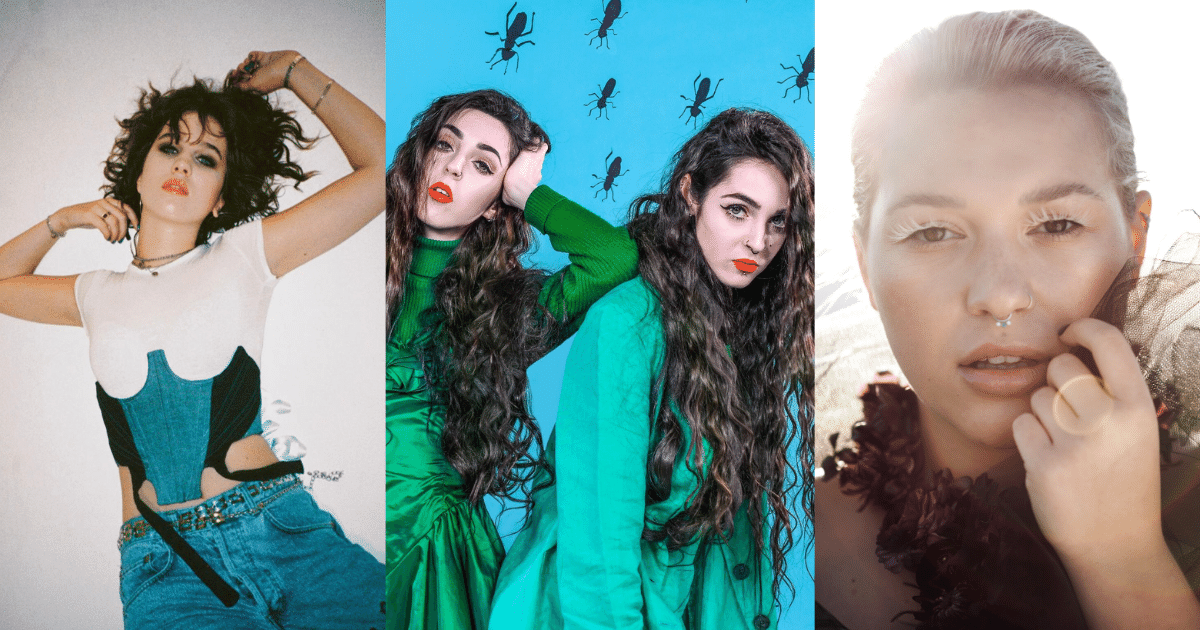 As we continue to celebrate the incredible and talented women, female-identifying and gender diverse artists within the Australian and New Zealand music and entertainment industries, team Moshtix were lucky enough to chat with rising stars Molly Payton, No Frills Twins and Aya Yves, to uncover three tracks by women that have had a profound impact on their careers to date. Check out their selections below.
Molly Payton

1. Fruits of my labour - Lucinda Williams
Lucinda Williams' music has been a huge comfort to me. This song was one of my most listened to songs last year, it makes me feel like things are ok even when they're not. If I could provide people with one thing through my own music I'd want it to be that.
2. Iceblink luck - Cocteau twins
Cocteau Twins are a big inspiration for me, more specifically Elizabeth Frazer. I found her through a song she did with Jeff Buckley and fell in love with her voice straight away. There's just something special about the energy in this song and the rest of Heaven or Las Vegas, it makes you feel like you're in a dream.
3. Beef Jerky - Cibo Matto
I found Cibo Matto during a buffy the vampire slayer binge last year and got a bit obsessed. I put on this song and the rest of 'viva! La woman' whenever I need to pump myself up or I'm about to do something I'm excited about, I suspect it's going to become my pre-tour soundtrack this week.

Catch Molly Payton across New Zealand this month on her 'Porcupine' Tour, with shows in Wellington, Auckland and Canterbury. More info and tickets HERE.
No Frills Twins

1. Unready- Gordi
Vanessa first discovered this song on an afternoon walk listening to "New Music Friday" on Spotify. She instantly fell infatuated and hit the replay for a good 20 minutes. She recalls the song making her surroundings seem all the more beautiful. Compelled then to do a giant music stalk of every single song by Gordi, dazed and confused by how she hadn't ever heard of this artist before!
Gordi is the kind of quality artist whose music is a strong enough sell point unneeded of the common emphasis placed on "image", "sex appeal" or "backstory".
Vanessa immediately sent the song to twin sister Arna proclaiming "OMG I just discovered this brilliant artist, her music is so amazing! The production is so special and really makes you feel all kinds of emotions. I feel like this is the kind of sound I envision for our music... I just love everything about it."
This song brought itself to Vanessa at a time she really needed it - a couple of months into the covid lockdown when inspiration/optimism had run dry. "We both felt stuck with writing and stuck in life, but falling in love with this Gordi song made Vanessa fall in love with the possibility of writing great songs again".
Gordi inspires us a lot because of her authenticity and the unconventional way in which she uses her beautiful deep voice.
2. Crush - Beks
We have an amazing friendship with our managers, Tam & Liz, and we always send each other music.... which is how we were introduced to Beks! We were instantly hooked, bedroom dancing to her music every day, thrilled to see such addictive pop come right out of Sydney! We think Beks is definitely one of Australia's most exciting pop musicians currently!
Her feel-good song "Crush" makes us never want to write a sad song ever again (even though that'll never happen). She's a bloody great songwriter and we've recently been lucky enough to get into the studio with her for some co-writes and collabs!
Her strong hooks, cool effortless vocals and fun production is the perfect concoction for perfect pop. Her songs inspire us to want to write more feel-good stuff! We personally know how hard-working Bek is and she's enthusiastic about every minute of it. We admire her so much and can't wait to see what's in store!
3. I Know A Place - MUNA
This song by MUNA literally offers a sense of escape and peace for a few minutes! What a powerful gift music can be! We kept hearing this song on the radio and in shops and knew it had become our newest favourite.. but we didn't know the song title or artist! We finally discovered the name and artist when a friend later sent us the song saying it reminded them of our music (what a compliment).
MUNA is a 3 member girl band which is epic in itself. We looooooove girl bands, there's something super hot about a girl on drums or bass. This might sound weird but we'd describe their vocals as "earthy and European" (we adore the touch of their European accents similar to the singer MO).
'I Know A Place' by MUNA is particularly special to us with its message of love, kindness, hope and forgiveness. It was written in 2015 after the Supreme Court's decision to legalise gay marriage. It was a celebratory and anthemic song for the queer community, and a universal cry to end violence.
No Frills Twins perform at Oxford Art Factory this Thursday night alongside AZURE. More info and tickets HERE.
Aya Yves

1. Daisies- Katy Perry
I only just heard this a few days ago for the first time and I'm absolutely obsessed. The lyrics in this song are so meaningful and powerful. It makes me feel like I can do anything I set my heart to, which obviously is a career in music, which happens to be exactly what the song is written about. Katy Perry is a badass writer and artist who worked so hard to get where she is now- huge props to her.


2. Falling Water - Maggie Rogers

Oh gosh, I could talk about how much I love Maggie Rogers for days. I love that she stands by herself as an artist so fiercely, and has so much integrity surrounding the artistic process.
Maggie Rogers was the first artist I heard on mainstream radio that I heard myself in, I think our approach to life and art is quite similar. Her show was the best concert I've ever been to- she was just in pure flow and gave it her all. I respect that she started her own label, and released her archive of songs to show the work it took for her to get to the stage she's at. Falling Water is one of my favourite songs on the album- although they change all the time.


3. The Edge Of Glory - Lady Gaga

I was 14 when this song came out and I remember falling in love with it and practising it over and over in my bedroom because I wanted to be able to sing like Lady Gaga. Her voice is insane, I love that she's so passionate- fiercely believes in herself, fiercely loves her fans, fiercely fights for change and human rights. My ultimate musical goal is to be the lovechild of Lady Gaga and Joni Mitchell.
Aya Yves celebrates the launch of her latest EP 'What We Look Like With The Light On', with shows at Sydney's Oxford Art Factory and Canberra's UC Hub this Mar/May. You can also catch the singer-songwriter performing live at Exhibition Park in Canberra for Cattle Yard's Fresh Produce event series. More info and tickets HERE.
Want more? Discover other amazing female female-identifying and gender diverse artists performing across the country this year HERE!
FOR MORE BREAKING NEWS CLICK HERE